Written on July 31, 2013 at 3:00 pm , by Judith Pena
If you're like me, you always over-buy paint. I mean, who wants to get halfway through a painting project and realize you don't have enough paint and need to go back to the store? Not me! So, with this philosophy in mind, I often end up with extra paint. So after my last painting project–a chalkboard cabinet door–I had an immense amount of chalkboard paint to get rid of, thus I began a search for more chalkboard paint ideas. Check out the 7 cool ideas–I might actually try–below!
Chalkboard Wine Glass Labels
Looking for wine glass charms before a party is a pain in the butt so nix the idea completely by opting for chalkboard paint-dipped wine glasses. You'l never get your wine glass confused with someone else again.
Chalkboard Bottles
As of now, I'm not sure what I'm would do with chalkboard painted bottles, but as I collect beautiful bottles and always want to upcycle old wine bottles, this could be a great solution.
Chalkboard Wrapping Paper
How fun! Personalize your gift wrapping paper with chalkboard paint. Supposedly, the chalkboard paint wrapping paper is reusable too.
Chalkboard Fireplace
Can't have a real fireplace? No worries, just draw one instead! I particularly like this photo because of the small candles in front of the illustrated fireplace.
Chalkboard Herb Garden Labels
Classy and cute labeling is hard to find. Chalkboard paint provides the much-needed solution here.
Chalkboard Wall Calendar
Got a blank wall in your office? Then dress it up and simultaneously get a handle on planning with this chalkboard paint wall calendar. Write directly onto the chalkboard paint days or use post-its as an easy (and moveable) alternative.
Chalkboard Cheese Plate
I love this idea because it provides an easy solution to the "labeling the cheese plate dilemma." Not sure what I'm talking about? Labeling a cheese plate on the fly with something classier than post-its–yup, it ain't pretty–is hard. So this easy chalkboard cheese plate is the perfect, easy solution.
How to Fake a Designer Backsplash
Written on July 31, 2013 at 11:07 am , by Judith Pena
CHEF CHRIS HASTINGS
of Hot and Hot Fish Club, Birmingham, AL
Find out more about this James Beard award-winning chef at jamesbeard.org.
Chris Hastings' Top 5 Favorite Burgers in the South
1. WILLIS BURGER Shindigs Catering, Birmingham, AL  
Arugula, blue cheese and sweet-spicy mostarda on a big beef patty.
2. BOURÉ BURGER Bouré, Oxford, MS  
A juicy patty with fried pickles, blue cheese and spicy "comeback" sauce.
3. PORT OF CALL BURGER Port of Call, New Orleans, LA 
A super freshly ground half-pounder.
4. THE JOHN T. PIMENTO CHEESEBURGER Jim N' Nicks, Montgomery, AL 
Named for food writer John T. Edge; topped with cheddar-and-pepper spread.
5. GREEN CHILE CHEESEBURGER The Little Donkey, Homewood, AL
Pasture-raised beef, melted cheese and roasted poblanos in a tortilla.
Written on July 29, 2013 at 4:18 pm , by Judith Pena
Sometimes I approach a classic recipe with meat and think, "How I can make this vegetarian?" While other times the transformation just happens by chance, as was the case with this Veg(etarian) Wedge Salad.
Though I'm not sure where or when the original Wedge Salad was created, the combination of crunchy lettuce, tangy cheese, creamy dressing and bacon has always been a favorite of mine. So while looking in my fridge one night, I spotted a number of Wedge Salad ingredients and started to get excited, until–oh wait, oh no!–I didn't have any bacon. In search of a quick substitute, I found that I had falafel and thus a (meat-free) salad plan was hatched. To go along with my newly-inspired Mediterranean take on the wedge salad, I whipped up a feta-buttermilk dressing in place of the standard blue cheese dressing and substituted grilled romaine for the typical iceburg lettuce (I don't think romaine is typically Mediterranean, but I like the chargrilled romaine flavor, so I went with it).
Written on July 25, 2013 at 6:28 pm , by Judith Pena
I've always been fascinated by people with a "signature drink." Not the type of drink that they have named after them, but the type of drink that they order all the time. I've always wondered, first, how did they find or decide on this drink? And second, what did their drink of choice say about them? Perhaps one of the reasons I was intrigued by these drinkers and their single cocktail devotion was that I didn't have a signature drink of my own–that is until I discovered the Negroni.
Written on July 25, 2013 at 9:00 am , by Judith Pena
I drink iced coffee all yearlong, even when there's snow on the ground. But buying iced coffee on the daily can get expensive, so I've taken to making my own coffee–cold brew, to be specific. So what the heck is cold-brew coffee, anyway? Well folks, pay attention, because I'm about to show you the way. (Oh, and since you don't need electricity for this method, you can thank me the next time the power goes out and you can still get your caffeine fix!)

So what's the difference?
Cold-brew coffee is made by steeping coarsely ground coffee beans in room temperature or cold (ie. no heat here!) water over a long period of time and straining the liquid to create a concentrate. As no heat is applied, the bitter flavor components of the bean are not released, producing a less astringent and less acidic coffee that some even describe as sweet.
How do you make it?
Written on July 24, 2013 at 10:56 am , by Judith Pena
We've all had tequila in a margarita before, so for National Tequila Day, let's go beyond the Mexican classic and try tequila a different way.
10 Ways to Enjoy Tequila–Beyond the Basic Margarita
1. Tequila + Grapefruit Juice + Club Soda  + A Squeeze of Lime (aka a Paloma)
2. Tequila + Tonic Water
3. Tequila + Lemon + Simple Syrup + Club Soda (aka a Juan Collins)
4. Tequila + Ginger Ale
5. Tequila + Orange Juice + Grenadine (aka a Tequila Sunrise)
6. Tequila + Pureed Watermelon + Triple Sec
7. Tequila + Campari + Sweet Vermouth (aka a Tequila Negroni)
8. Tequila + Orange Juice + Pineapple Juice
9. Tequila + Muddled Mint & Limes + Simple Syrup + Club Soda (aka a Tequila Mojito)
10. Tequila + Bloody Mary Mix (aka a Bloody Maria)
But if you decide, even after all of these awesome suggestions, you still must have a margarita, I suggest trying our Jalapeno Margarita above. It's kick-ya-in-the-butt spicy, but oh so good. Cheers!
5 Bar Secrets from Mixologists
Written on July 21, 2013 at 9:00 am , by Judith Pena
Last "Fill in the Blank Friday," we asked you what your favorite junk foods are and based on your spirited responses, here are the top five junk foods you crave. Go ahead and indulge, after all it is National Junk Food Day–the best day of the yeaaar!
1. Potato Chips
What's not to love about crunchy potato chips? Perfect as a snack or accompanying a sandwich, these hot potatoes pack flavor and crunch into an awesome one-bite package. Here's a little trivia for you, did you know the average person eats the equivalent of 96 one-ounce bags of chips a year. (That's 6 pounds a year.) Whether you spread your potato chip consumption out over the whole year or make it all happen today,  try one of our homemade chip recipes. You'll be able to customize them exactly to your liking and you'll never run out of delicious crisps again.
Get the recipes: Chips
2. Pizza
I can understand why pizza is considered a "junk food," but I also refuse to accept it as such. Regardless, pizza is clearly amazing. In fact, approximately 94 percent of Americans eat pizza on regular basis. So have a love affair of your own and cook up one of our easy and delicious pizza recipes at home ASAP.
3. Cheeseburger
We love burgers and so do you. With all the different variations out there though it can tricky to find your ultimate recipe. So we've taken the guesswork out of recipe searching and testing with our Ultimate Burger Recipe Finder Tool. Just answer four quick questions and we'll find the perfect recipe for you.
4. Ice Cream
In the United States, the average person consumes an average of 48 pints of ice cream a year, more than any other country. This is totally understandable though as even lizards know how good ice cream is. No matter which flavor is your fave though, we have an ice cream sandwich recipe you'll be sure to love.
Get the recipes: Super-cool Ice Cream Sammies
5. Chocolate
Just look at that gif. Enough said.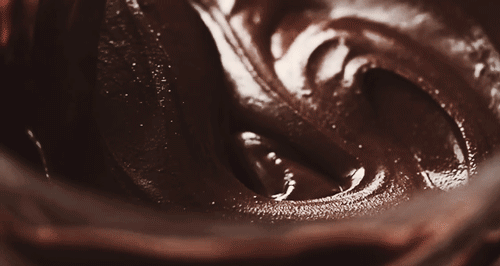 RELATED:
Rachael's 25 Most Popular Burgers
26 Decadent Chocolate Desserts
Written on July 18, 2013 at 3:58 pm , by Judith Pena
At brunch recently, an Italian friend of mine cancelled my normal brunch drink and ordered me a Bicicletta instead. "Trust me," he said, laying on the Italian accent of course, "you'll love it." And he was right. Bitter, sweet, effervescent and not too strong, this vibrantly colored cocktail is a must for brunch or a summer picnic when you wanna mix it up. Get the supersimple 3-ingredient plus garnish recipe below.
The Bicicletta supposedly gets its name from the old Italian men who would wobble and swerve on their "biciclettas" (Italian for "bicycles") on their way home after having a few too many to drink. Personally, I think it's best made with a dry Italian white wine, such as pinot grigio, as it balances the bitter components of savory Campari. Play around with the amount of club soda you add too. The goal is to add enough club soda to make the drink light and sparkling, but not so much that you dilute the drink and it's bright red color.
Please forgive the bluriness of the photo, perhaps I had one too many biciclettas at that point.
Bicicletta
Makes 1 drink
2 ounces Campari, an Italian liqueur
2 ounces white wine, preferably Italian
club soda
lemon slice
Combine Campari, white wine and club soda.
Gently stir to mix–you don't want to deflate the carbonation.
Garnish with lemon slice and enjoy.
Keep Cool with Cucumber Cocktails
5 Cocktail Party-Pitcher Recipes
Need to Know Drink: Pimm's Cup
Written on July 18, 2013 at 12:00 pm , by Judith Pena
CHEF GABE RUCKER
of Le Pigeon, Portland, OR
Find out more about this James Beard award-winning chef at jamesbeard.org.
Gabe Rucker's Top 5 Favorite Burgers in the Northwest
1. SLOWBURGER Slow Bar, Portland, OR  
Melted gruyère, butter lettuce, pickle relish and beer-battered onion rings.
2. HALIBUT FISHWICH Matt's in the Market, Seattle, WA  
Fried fish patty, bacon, pickled peppers and tartar sauce on a brioche bun.
3. PALEY'S BURGER Paley's Place, Portland, OR  
Ground-to-order patty with homemade pickles, mustard aioli and ketchup.
4. BIWA HAMBURGER Biwa, Portland, OR  
Colossal beef patty topped with roast pork and spicy kimchi mayo.
5. LAMB BURGER Broder, Portland, OR  
Mint-and-cumin lamb burger with herbed goat cheese and pickled onions.
Written on July 18, 2013 at 12:00 pm , by Judith Pena
CHEF BRUCE SHERMAN
of North Pond, Chicago, IL
Find out more about this James Beard award-winning chef at jamesbeard.org.
Bruce Sherman's Top 4 Favorite Burgers in the Great Lakes region
1. VIE BURGER Vie, Western Springs, IL  
A 21-day dry-aged beef patty grilled over a wood fire with aged Wisconsin cheddar, homemade pickles, bacon and tempura mushrooms on the side.
2. JAMBURGER Jam, Chicago, IL  
Two beef patties paired with mild local butterkase cheese, a fried egg and smoked tomato sauce.
3. PIMIENTO CHEESE BURGER Big Jones, Chicago, IL
 A double stack tricked out with griddled onions and homemade pimento cheese on a squishy steamed bun.
4. DOUBLE CHAR BURGER Edzo's, Evanston, IL  
Hand-ground chuck grilled with cheddar, mushrooms, bacon and onions.