Written on November 11, 2013 at 11:26 am , by Lauren Katz
There's never a wrong time to enjoy a decadent ice cream sundae. But if you were to enjoy one just one day of the year, let it be today: National Sundae Day. Creamy, sweet ice cream and piping hot sauce with plenty of crunchy toppings — what's not to love? So, to make your Monday feel a little bit more like Sunday/e, here are three of our favorite recipes:
Cherry-Chocolate Chunk Ice Cream Sundaes
Elvis-Style Grilled Banana Sundaes
The weather outside might be getting frightful, but these sundaes will keep you feeling sooo delightful.
Related Links
Written on August 2, 2013 at 11:18 am , by Lauren Smith
To celebrate National Ice Cream Sandwich Day, we're sharing these gorgeous ice cream sammies that are layered with grown-up flavors, but will still make you feel like a kid on summer vacation.
 Start with a double dose of sea-salt-sprinkled brownies, then add a chunk of coffee ice cream and a ribbon of fudge sauce for our Salted Brownie Sundae Bites. Talk about "sundae" best!
Try more of our tasty frozen treats that'll be a delight to your taste buds!
 These party-perfect Pistachio Neapolitan Cakewiches make a bold statement without a lot of work. Just sandwich ice cream between two layers of cake, freeze, then cut into bars.
 We've taken what you love most about the classic pie — tangy lemon filling, perfectly browned meringue — and put it in a portable form in this Lemon Meringue Hand Pies.
Forget cookies and milk. We're upgrading to this combo: cakes chocolate cookies, a scoop of minty ice cream and a swipe of fluffy frosting in our Chocolate Mint Stacks.
Find more ice cream sandwich recipes to make this summer!
Written on July 21, 2013 at 9:00 am , by Judith Pena
Last "Fill in the Blank Friday," we asked you what your favorite junk foods are and based on your spirited responses, here are the top five junk foods you crave. Go ahead and indulge, after all it is National Junk Food Day–the best day of the yeaaar!
1. Potato Chips
What's not to love about crunchy potato chips? Perfect as a snack or accompanying a sandwich, these hot potatoes pack flavor and crunch into an awesome one-bite package. Here's a little trivia for you, did you know the average person eats the equivalent of 96 one-ounce bags of chips a year. (That's 6 pounds a year.) Whether you spread your potato chip consumption out over the whole year or make it all happen today,  try one of our homemade chip recipes. You'll be able to customize them exactly to your liking and you'll never run out of delicious crisps again.
Get the recipes: Chips
2. Pizza
I can understand why pizza is considered a "junk food," but I also refuse to accept it as such. Regardless, pizza is clearly amazing. In fact, approximately 94 percent of Americans eat pizza on regular basis. So have a love affair of your own and cook up one of our easy and delicious pizza recipes at home ASAP.
3. Cheeseburger
We love burgers and so do you. With all the different variations out there though it can tricky to find your ultimate recipe. So we've taken the guesswork out of recipe searching and testing with our Ultimate Burger Recipe Finder Tool. Just answer four quick questions and we'll find the perfect recipe for you.
4. Ice Cream
In the United States, the average person consumes an average of 48 pints of ice cream a year, more than any other country. This is totally understandable though as even lizards know how good ice cream is. No matter which flavor is your fave though, we have an ice cream sandwich recipe you'll be sure to love.
Get the recipes: Super-cool Ice Cream Sammies
5. Chocolate
Just look at that gif. Enough said.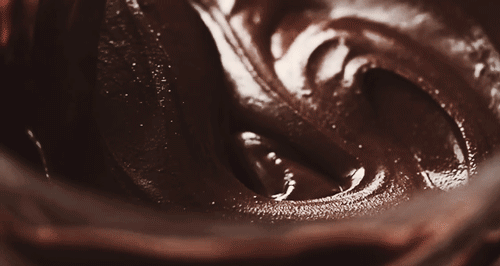 RELATED:
Rachael's 25 Most Popular Burgers
26 Decadent Chocolate Desserts
Written on July 17, 2013 at 9:00 am , by Nicole Witko
Happy National Peach Ice Cream Day! It's summer, and there's no better time to enjoy a nice juicy peach than right now. So stock up! This recipe ensures those peaches won't go to waste.
Peach and Toasted Almond Ice Cream
5 Tips for Making Homemade Ice Cream:
1. To decrease prep time, store the bowl of your ice cream maker in the freezer, wrapped tightly in a plastic bag.
2. Add mix-ins, such as nuts and chocolate chips, for only the last minute of churning.
3. To ensure proper aeration, only fill the ice cream maker three-quarters of the way.
4. Make sure the ice cream "batter" or custard is cool before putting it into the machine.
5. To prevent ice crystals from forming in the freezer, place a piece of plastic wrap on the top surface and press down.
More Sweet Treats:
Seasonal Chocolate Dessert Recipes 
Source: seriouseats.com
Written on April 10, 2013 at 5:55 pm , by Lauren Smith
Here's an almost-instant dessert: Orange & Ice Cream Trifles. All you need are oranges, orange marmalade, lemon juice, pound cake and vanilla ice cream. What's better than a 5-ingredient recipe on a weeknight? Get the recipe here.  Then, keep reading to learn how to make it one pretty treat.
Upgrade your dessert by cutting your oranges into pretty segments ("supremes in chef lingo). Just follow our how-to steps below!
Prep it!
Cut a small slice off the top and bottom, exposing some of the flesh. Stand the fruit up on one flat side.
Pare it! 
Cut from top to bottom along the curve of the fruit, removing the peel and bitter white pith.
Section it! 
Over a bowl, make a slice on each side of each segment along the membrane and use the knife blade to lift out the freed fruit wedge.
Illustrations by Emma Kelly