Written on January 10, 2014 at 10:53 am , by Lauren Katz
Happy Friday! We know the last thing you probably want to do tonight is cook dinner when you can just as easily get into weekend mode and order in. Let us give you an offer you can't refuse: A pizza recipe that's almost as easy to make as picking up the phone and calling for delivery — but it's homemade! Plus, it'll be done before any pizza boy could make it to your front door. Behold: Pizza Supreme
Spicy Italian sausage, creamy ricotta cheese and tender bell peppers on a warm crust straight out of the oven. It doesn't get any fresher than that!
Related Links
Written on December 7, 2013 at 9:00 am , by Lauren Katz
With new products hitting the grocery stands every day, it's hard to keep up with the latest food trends. Have no fear; we're here to help! Each week, we'll be highlighting a new product that's worthy of a spot in your shopping cart and your kitchen.
The Product
Pillsbury Gluten Free Thin Crust Pizza Dough delivers one large crust or six personal pies for an almost-instant pizza party! ($4.99)
Why You Should Buy It
With so many people on a gluten-free diet, play it safe with this dough that tastes and feels just like the regular stuff.
How You Should Use It
Did someone say pizza party? Forget the marinara and mozzarella–try one of these pizza alternatives:
Related Links
Written on September 4, 2013 at 1:00 pm , by Lauren Katz
Every week, we check out YOUR food photos on Instagram and pick a
"Whatcha Cookin' Wednesday Featured Cook of the Week" to appear on our blog and have a chance to be featured in a future issue of the magazine.
Kelly Senyei, AKA @justataste, uses goat cheese, heirloom tomatoes, and homemade basil pesto in this beautiful tart that pays homage to summer. Flaky puff pastry keeps the tart light and refreshing, and the sprinkling of sea salt and fresh basil at the very end adds a bright bite to this pizza-alternative. Get the full recipe on her blog.
Puff pastry isn't the only way to change up your usual pizza routine. Here are eight awesome grilled pizza recipes to make use of that grill for as long as possible.
RELATED:
Chef's Fave Italian Ingredients
Written on September 3, 2013 at 9:00 am , by Every Day with Rachael Ray Staff
When done right, pizza dough is crispy and crunchy and delicious. The secret? A long, slow rise. Follow our step-by-step lead for the best-ever 6-ingredient pizza dough!
Learn how to mix, pour, turn, oil, punch, shape, rest and finally roll out the best-ever pizza dough.
More technique tips:
How to Make Your Own Preserves
Written on July 21, 2013 at 9:00 am , by Judith Pena
Last "Fill in the Blank Friday," we asked you what your favorite junk foods are and based on your spirited responses, here are the top five junk foods you crave. Go ahead and indulge, after all it is National Junk Food Day–the best day of the yeaaar!
1. Potato Chips
What's not to love about crunchy potato chips? Perfect as a snack or accompanying a sandwich, these hot potatoes pack flavor and crunch into an awesome one-bite package. Here's a little trivia for you, did you know the average person eats the equivalent of 96 one-ounce bags of chips a year. (That's 6 pounds a year.) Whether you spread your potato chip consumption out over the whole year or make it all happen today,  try one of our homemade chip recipes. You'll be able to customize them exactly to your liking and you'll never run out of delicious crisps again.
Get the recipes: Chips
2. Pizza
I can understand why pizza is considered a "junk food," but I also refuse to accept it as such. Regardless, pizza is clearly amazing. In fact, approximately 94 percent of Americans eat pizza on regular basis. So have a love affair of your own and cook up one of our easy and delicious pizza recipes at home ASAP.
3. Cheeseburger
We love burgers and so do you. With all the different variations out there though it can tricky to find your ultimate recipe. So we've taken the guesswork out of recipe searching and testing with our Ultimate Burger Recipe Finder Tool. Just answer four quick questions and we'll find the perfect recipe for you.
4. Ice Cream
In the United States, the average person consumes an average of 48 pints of ice cream a year, more than any other country. This is totally understandable though as even lizards know how good ice cream is. No matter which flavor is your fave though, we have an ice cream sandwich recipe you'll be sure to love.
Get the recipes: Super-cool Ice Cream Sammies
5. Chocolate
Just look at that gif. Enough said.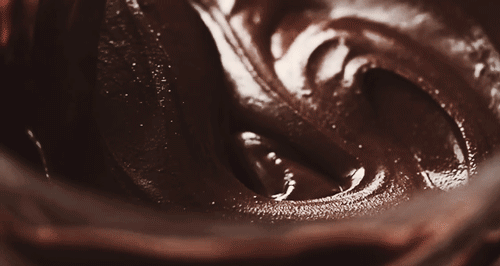 RELATED:
Rachael's 25 Most Popular Burgers
26 Decadent Chocolate Desserts
Written on May 23, 2013 at 11:03 am , by Judith Pena
Take a bite out of summer with our new collection of easy berry recipes!
Take a peek below at our favorite recipes. We promise they're all berry delicious!
RELATED:
5 Cocktail Party Pitcher Recipes
5 Techniques for Great Grilled Chicken